Bristol mayor candidate Paulette North exits race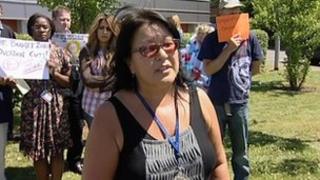 A Respect Party candidate who was standing for the role of Bristol elected mayor has exited the race.
Paulette North said she would not be able to continue her campaign for personal reasons.
Neil Maggs, her agent and running mate in the campaign, will now be the Respect Party's mayoral candidate, the party announced.
"Neil Maggs is a fantastic candidate, he can really move things along," Ms North said.
Last month, Ms North said the likely fee of £1,500-£2,000 that Bristol mayoral candidates would have to pay to appear in an election booklet was a "ridiculous" amount and could deter people from standing.
She told the BBC that her decision to bow out of the race was not related to the fee.
"I have lots of things going on, my life is very hectic and I don't feel that I can give it my all," Ms North said.
"It's not about the messenger, it's about the message."
Mr Maggs, 52, works as a school bursar in Bristol and is a member of trade union Unison.
"I am Bristolian through and through and very proud of that," he said.
"I love the city of Bristol and I want everyone that lives here to be proud of it.
"If elected as mayor, I would not accept the six-figure salary that goes with the job. Instead I would only take an average working wage.
"I am determined not to burden council taxpayers with the costs of another layer of bureaucracy and would rely on existing council staff to support the work of the mayor."
Bristolians voted in favour of replacing the council leader with an elected mayor in a referendum in May.
Elections will be held on 15 November.