Bristol couple embark on survivalist trip around Europe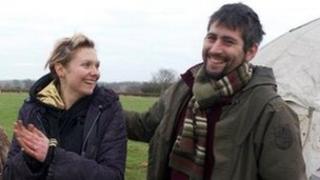 A couple from Bristol are setting off on a sailing trip around Europe in order to learn survival skills to equip them for the future.
Naomi Smyth, 30, and Sam Rossiter, 34, gave up their jobs and sold their house and most of their belongings in order to embark on the journey.
The couple say they are concerned about the economic situation, climate change and shrinking resources.
They plan to meet like-minded people and learn survivalist skills from them.
Miss Smyth, a film-maker, who is recording the trip for a documentary, said they will be meeting survivalist groups in Europe after making contact on the internet.
She said: "We'll visit a wide variety of people and projects in England, France, Spain and Italy on our way to Greece.
"We want to find out how people are coping with instability and collapse in their own lives and how they plan to deal with it in future.
"Through them we also hope to make new contacts. We'll see how we go."
Mr Rossiter, a former web designer, said: "We decided that before we have kids we want skills beyond using cameras and laptops.
'Crazy survivalist'
"Some think you're a crazy survivalist if you think along these lines but it just seems sensible to us."
The couple say their trip was inspired by the fuel strikes in 2008 and the Bristol riots in 2011.
The couple have saved most of the money from the sale of their house in order to buy some land on their return to the UK. They are planning a tentative budget of £100 a week while they are travelling.
They will set off from Bristol harbour later in their 22ft (6.7m) yacht, named Lexia, for the journey which will take them around the UK and onto Europe, stopping off at various countries along the way.
Miss Smyth said they expect to reach Greece within a year and will decide then whether to return to the UK or continue their journey.
Their first port of call will be the Uncivilisation Festival in Hampshire on 17 August.
The event is a gathering of people searching for answers to the issues of "economic contraction, ecological collapse and social upheaval", whose organisers "see that the world is entering an age of ecological collapse, material contraction and social and political unravelling".
Miss Smyth and Mr Rossiter will be posting updates on a website and Facebook page as their journey progresses.