Evon Berry, Bristol 1996 shooting victim, remembered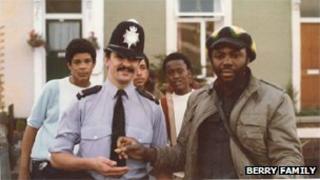 A man killed in St Pauls 16 years ago is being remembered at a special family fun day in Bristol.
Bangy's Day will celebrate the life of Evon Berry and those who have stood for peace in the city, organisers said.
Mr Berry was fatally shot on 1 January 1996 on his way home from a New Year's Eve celebration, after attempting to stop an attack on another man.
The memorial event was put together by local residents who formed Bangy's Memorial Group earlier in the year.
"After getting over the initial shock, the long-term support from members of the community, the police, family and friends had made coping less difficult," said Mr Berry's widow, Linda.
"My daughters and I feel proud and honoured that this day is being dedicated to the memory of Bangy and the promotion of peace in the community."
Bravery medal
A permanent plaque in memory of Mr Berry, known as Bangy to his friends, will also be unveiled during the event at the park in St Thomas Street, Montpelier.
Mr Berry was posthumously awarded the Queen's Gallantry Medal for his bravery after Avon and Somerset police officers nominated him for the award.
"Everyone is welcomed to honour Mr Berry, a family man with an infectious laugh who loved working out at the gym and who is remembered in the community as a symbol of peace," St Pauls Unlimited said.
Invited guests include Doreen Lawrence, whose teenage son Stephen was murdered in London in 1993.
Bangy's Memorial Group hopes to establish an annual cycle of commemorative events that recognise people in Bristol whose work contributes to peace and harmony in the city.
The memorial event takes place from 12:00 to 18:00 BST on Sunday.