Petition started over Bristol House Inn sell-off plan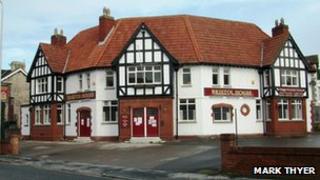 More than 1,700 people have signed a petition to stop a recently closed pub in Weston-super-Mare from being turned into a supermarket.
Residents living near the Bristol House Inn in Milton Road said there were already three convenience stores nearby and another supermarket was not wanted.
Campaigner Mark Thyer said: "It's [the pub's] the hub of the community, it's been going for 80 years."
Owner Enterprise Inns said it would be marketing the property in due course.
Community hopes
The pub closed three weeks ago after the tenant landlord left.
A spokesman from Enterprise Inns said: "We are likely to be marketing the property in due course, either for freehold sale or a new lease, but before we do so, we have decided to apply for the renewal of the lapsed planning consent in order to make the property more attractive to potential buyers/Tenants.
"No decision has been made at this stage and no restrictions will be applied to the future use."
The company has been in talks with Tesco.
A spokesman for Tesco said: "We have had discussions with the current owner but do not own the site and have not taken a lease.
"Customers of our Express stores welcome the great value food, convenient shopping and jobs we are able to offer.
"We are interested in operating a convenience store at the former Bristol Inn, are talking to local people and will carry out further local consultation should a lease agreement be signed."
Campaigners have given the petition to North Somerset Council.
The campaigners have also said they want to explore whether it could be run as a community-owned pub to safeguard its future.
A public meeting has been planned for 6 September at the Vintage Community Church in Hughenden Road.