Bristol police helicopter deal 'must deliver savings'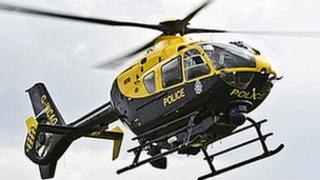 A deal to share a police helicopter in Bristol with neighbouring areas will only go ahead if it delivers savings, a police authority has warned.
The Avon and Somerset force helicopter is due to become part of the National Police Air Service (NPAS) in October.
But the Avon and Somerset Police Authority said it would be "poring over the detail" of the plan.
In April, the authority said the helicopter would continue to be based at Filton in Bristol.
Authority chairman Dr Peter Heffer said: "I'm determined to get the best possible deal for the communities of Avon and Somerset.
"Although we agreed in principle to join NPAS, with a number of caveats, we need to make sure the savings stack up.
"We will be poring over the detail and will not be agreeing anything until we are satisfied that it is to the greatest operational and financial benefit of our communities."
Outside peak hours
Under the NPAS plan, all police air support operations in England and Wales will be run by the West Yorkshire force.
Avon and Somerset is due to become part of the South West region of NPAS.
But in April, South Yorkshire Police revealed it would be maintaining its own helicopter for use outside peak hours.
The force said it was making the move to maintain response times.
The Avon and Somerset helicopter is currently shared with Gloucestershire and costs more than £500,000 per year to operate.
An authority spokeswoman said the details of any potential savings would be revealed at a meeting in September.
"Any decision to withdraw will be based on what's best for the area and will be based on a balance of the service, cost and hours," she said.