Stolen Hawk and Owl Trust mobile unit recovered after eBay sighting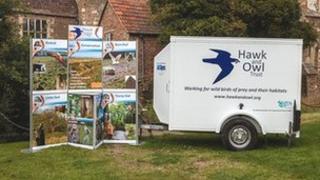 A Bristol conservation group has had its stolen mobile education trailer returned after its chairman saw it for sale on eBay.
The unit belonging to the South Gloucestershire Hawk and Owl Trust was stolen in Stapleton in May 2011.
It contained display boards, show equipment and thousands of leaflets.
Chairman Paul Golledge spotted it on the internet auction site and contacted Avon and Somerset Police who launched an investigation.
The trailer was subsequently recovered earlier in the year and it has now been returned to the trust.
A police spokesman said no-one had been charged over the matter.
The trailer had been stripped of its branding so it has been refurbished and will resume its role in transporting the group's promotional tools to shows across the West.
Mr Golledge said the trust had been "devastated" when it was stolen.
He said: "We are incredibly grateful to Avon and Somerset Constabulary for its dogged detection work in solving this crime. It means the important work of the trust can continue unhindered."
Vice-chairman Stuart Robson said he was "delighted" to celebrate the trailer's return and added: "Our education unit enables us to explain to people the work we do and why we do it.
"It also gives them the opportunity to get involved with us as conservation volunteers."
Hawk and Owl Trust volunteers work for wild birds of prey and their habitats.
The mobile education trailer is used at festivals, shows and events to help promote the trust's work while providing information.