Bristol University fund to promote 'community harmony'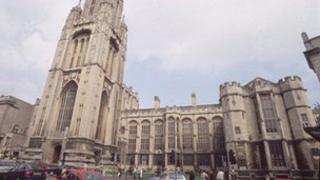 Bristol University is offering neighbourhood groups grants for get-togethers with local students to improve relations.
The university, which is offering up to £250 to groups, wants to promote greater harmony in streets where large numbers of undergraduates live.
The main complaints from residents concern noise and rubbish.
Clifton Down Community Association, which organised a curry night for students last year, said it worked.
Mandy McLaughlin-Boyd, from the association, said she would recommend the action to other groups.
"We decided we wanted something a bit more constructive rather than just a grumbly approach," she said.
The curry was followed by drinks and cake in a pub, and advice from local police officers.
'Complaints down'
"We had originally put out a welcome pack to all the students in the area with the help of UWE [University of the West of England] and the University of Bristol, and emailed students who had recently moved in," she said.
"We had 65 places and they were all booked up.
"We've had feedback from both the universities and from our local police officer that this year complaints regards students have been significantly down."
Academics have run similar schemes in the past.
But now the university has set up a Community Fund to pay for the projects and build on what has been achieved so far.
Projects can focus on the environment, community events or just improving communications.
Pru Lawrence-Archer, head of accommodation services, said: "Experience has shown that this sort of grassroots activity is the most successful way to promote community harmony.
"At the moment we're starting with a small fund of £2,500. Let's see how well it goes and if we get the same results as we did last year... perhaps we'll look at that again."