Severn Bridge closed for 'essential maintenance work'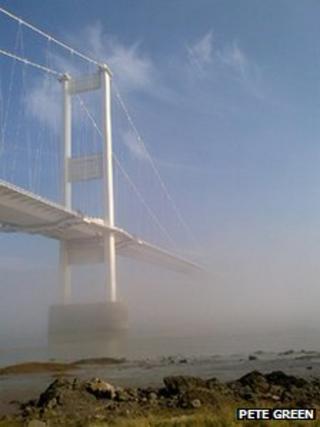 The M48 Severn Bridge is closed to traffic for "essential maintenance work", the Highways Agency has said.
The sections between the Beachley Viaduct and the Wye Bridge are shut this weekend for survey work.
It will also be closed from 5 to 8 October when "essential components" of one of the bridge's expansion joints will be replaced and upgraded.
An agency spokesman said the work had been planned to "cause the least possible disruption" to road users.
'Vital' link
"The Severn Bridge is a vital transport link between England and Wales, and this work will help keep it operating safely for many years to come," said the agency's Chris Pope.
"[We] will also be taking the opportunity during the closures to carry out other work such as minor surfacing repairs, maintenance work to barriers and painting posts to reduce the need for traffic management in the future."
He advised drivers to plan ahead and "allow longer for their journeys".
During the first phase, the Severn Bridge will reopen by 23:00 GMT on Sunday.
During the second phase, the bridge will be closed in both directions from 21:00 GMT on Friday 5 October until 06:00 on Monday 8 October.
The Highway Agency said signed diversions would be in place.