Indian reformer Raja Rammohun Roy celebrated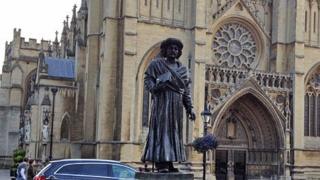 A service to commemorate the life of the Indian reformer Raja Rammohun Roy has taken place in Bristol.
Some 100 guests including the city's lord mayor, councillor Peter Main, joined representatives from the Indian High Commission for the service.
It started at 12:00 BST and lasted for an hour. Flowers were left at his tomb at Arnos Vale cemetery after the service.
The Raja died of meningitis while visiting Bristol in 1833.
He challenged traditional Hindu culture and fought for women's rights, including an end to "sati", the practice of widow burning.
He was visiting Bristol as a guest of a Unitarian minister when he suddenly became ill and died.
His tomb was restored in 2008 following a donation of more than £50,000 from Calcutta businessman Aditya Poddar.