Hydrogen-powered passenger ferry to be trialled in Bristol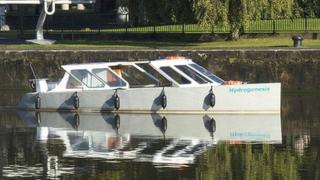 A hydrogen-powered passenger ferry is to begin a six-month trial in Bristol harbour at the end of October.
'Hydrogenesis', a 12-seater ferry, will operate for six hours a day between Temple Quay and the SS Great Britain.
Commissioned by Bristol City Council in 2010, the 11m (36ft) steel vessel is believed to be the first commercial fuel cell boat in the UK.
It is hoped it will "kick-start" the city's hydrogen economy and attract new environmentally-friendly innovators.
The prototype passenger boat has been designed and built by Bristol Hydrogen Boats Ltd, a consortium of local ferry operators and Auriga Energy Ltd.
Powered by a 12kW fuel cell, the zero-emissions vessel can travel at speeds of up to 10 knots.
The advantages, according to a council spokesman, include less noise, air and water pollution compared to conventional diesel powered vessels.
'UK-first'
"There is a huge amount of interest in how we develop clean, green transport and how we demonstrate its commercial advantages," said Councillor Neil Harrison.
"The city has a thriving environmental technology sector and the hydrogen-powered ferry is an innovative project that is a genuine UK-first."
The six month "demonstration project" is being funded by the council at a cost of £225,000.
At the end of the trial, provided it is successful in "demonstrating the viability of hydrogen fuel cell technology", the ferry will be owned and operated by Bristol Hydrogen Boats Ltd.
"The main objective is to showcase the new technology," said Jas Singh, from Auriga Energy Ltd.
"But we're hoping it's going to be heavily used and earn its keep."