Car crashes into house near Yate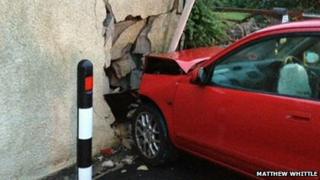 A house in South Gloucestershire was badly damaged when a car crashed through the wall of a downstairs room.
Emergency services were called to the scene on North Road, Engine Common, Yate, at about 06:20 BST.
Police said the male driver was treated by paramedics at the scene and that they were investigating the incident.
The family who live in the house said it had been hit almost a dozen times in 20 years and they were considering painting it a bright colour.
Anne Whittle said her husband had jumped out of bed when he heard a rumble, saying "something's hit the house".
"We found the front bonnet of a red car poking through our bedroom wall," she said.
Her son, Matthew, said: "It's a nice straight road and you can go fairly quick on it, but people don't realise how short it is and the corner comes up on you from nowhere."
A police spokeswoman said the vehicle had now been recovered and the council was involved in repairing the wall.