Bristol hospital flats plan application approved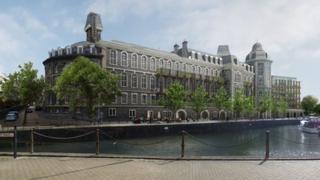 A scheme to redevelop the former Bristol General Hospital building has been passed by city planners.
City & Country Group wants to convert the grade II listed site in Guinea Lane into 190 flats and 10 commercial units.
A planning application was refused in August after Bristol City Council said the company needed to make more of a contribution to the community.
Following an independent review, local authority planning officers then recommended permission be granted.
Chief executive of City & Country Group Helen Moore said the decision was a "clear vote of confidence" in its vision.
"Our proposals will generate over £170m of economic activity locally, including a significant number of new jobs created during the construction programme."
Report flawed
Before the original application was submitted, the local authority said in order to go ahead with the development, City & Country should provide £1.2m in community contributions - known as a Section 106 agreement.
The company said it could not afford the amount due to the scheme's size.
After the planning application was refused, City & County planned to appeal, but the local authority agreed to an independent review to decide how much the Section 106 payment should be.
Following the review by BNP Paribas, which found the original viability report to be flawed, planning officers agreed to recommend the developers' proposals to restore the landmark building for approval.
Ms Moore described the site as a "nationally important heritage asset" and one of Bristol's most iconic buildings.