Bristol police officer wins bravery award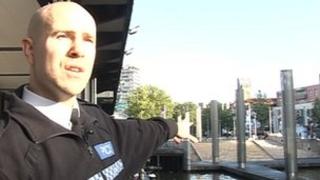 A Bristol police officer has won an award for diving into the city docks to rescue a man in freezing conditions.
PC Grant Goulden needed treatment at Bristol Royal Infirmary for hypothermia after saving the man in December 2010.
The intoxicated man was too far away to grab hold of a life ring, so PC Goulden jumped into the water and dragged him to a nearby jetty.
The annual Police Bravery Awards on Thursday night were attended by 53 nominated officers.
'Bit of an idiot'
It was held at London's Plaisterers' Hall and was followed by a reception at 10 Downing Street.
PC Goulden said he was "surprised" by the award.
"It was one of the coldest nights I have ever known. It never once occurred to me my safety would be in danger," he added.
"I don't think any police officer or anyone would have been able to watch him suffer.
"You could say I was a bit of an idiot to jump in. It's very hard to explain what it was like without being there."
Many airports were closed and weather warnings had been issued across the UK when the rescue took place.