Thornbury planning proposal gets go ahead for 500 homes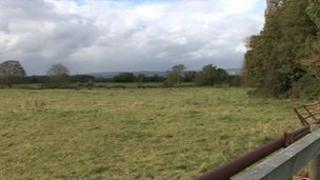 Outline planning permission has been granted for 500 new homes on fields to the north of Thornbury.
The decision was made unanimously at a South Gloucestershire planning committee meeting on Thursday night.
The fields totalling 64-acres (26-hectares) - about the size of 70 football pitches - is located near Thornbury Castle.
Some local residents opposed to the plans wanted the area to be protected from development.
'Least worst site'
Dave Hockey, chair of the West Development Control Committee on South Gloucestershire Council, said "everybody had their chance" to state their case earlier this year about the location's suitability.
"This site was [identified] as the most appropriate site for the additional 500 houses that Thornbury needs in order to maintain the vitality of the town centre.
"It is the least worst site identified in our council policy. This site was agreed.
"The Government Inspector accepted the recommendation that this should be the site for development in Thornbury that is needed."
Local resident Rob Hudson, who is against the plans, said it was "entirely the wrong place to build".
"It goes round the side of the Medieval fish ponds which were made into an ancient monument about a year ago," he said.
'Totally destroyed'
"It goes around two Grade II listed buildings here which will be totally destroyed.
"It does say under the national planning policy framework that substantial harm should not be caused to Grade II listed assets, unless there is a substantial public benefit which outweighs that harm.
"There is no evidence that there's a substantial public benefit that comes from damaging this particular site. There are other sites that are more sustainable in Thornbury."
Nearby farm owner Christine Rickard said local people had been "absolutely aghast" at the proposals.