Winterbourne View: MP calls for action against Castlebeck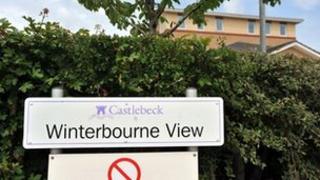 The owner of a care home near Bristol where staff abused vulnerable patients should be prosecuted for corporate negligence, an MP has said.
Six ex-workers were jailed for the ill treatment and neglect of residents at the Winterbourne View private hospital.
Conservative MP Jack Lopresti made the call for further legal action during Prime Minister's questions.
Owners Castlebeck has said it had made "extensive changes" to avoid a repeat of the scandal.
Former staff were sentenced to between six months and two years, while another five workers escaped with suspended terms, after the abuse was exposed by the BBC's Panorama using undercover filming.
The hospital was closed down by Castlebeck shortly after Panorama was broadcast.
Mr Lopresti, whose Bradley Stoke and Filton constituency includes Winterbourne View, said he hoped the recent prosecutions "would help to bring some closure" to the families of patients.
Prime Minister David Cameron replied: "If there needs to be further prosecutions then there should be."
"There are shocking pictures, shocking things that happened.
"We should judge our society by how we deal with the most vulnerable and needy people.
"What happened was completely unacceptable."