Bristol house fire victim Harry, three, 'tries to cry'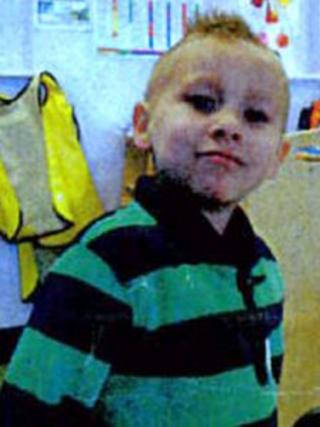 A three-year-old boy who was critically injured in a house fire tried to cry when his mother saw him in hospital, his step-grandfather has said.
Paul Tree said Harry was making progress in hospital despite suffering 50% burns following the fire in the Cossham area of Bristol on Saturday.
"His mum spoke to him and he reacted, his eyes were tracking her. His eyes welled up, he tried to cry," he said.
The fire at the house on Lodge Hill is not being treated as suspicious.
Nine people, including four children and a baby, were in the house at the time. Harry was the most seriously injured.
'It's pitiful'
Mr Tree said on Friday that Harry was undergoing his fifth operation.
"All his finger nails are burnt away, he's got no facial hair and he's black," Mr Tree said.
"His face is badly damaged, It's sad, it's pitiful."
He said Harry first opened his eyes on Monday and that his kidneys had now started to function again.
"His lungs are starting to work although he's still critically ill. He's on life support," Mr Tree said.
He said Harry's parents were at his bedside.
"The hospital has put them up and allowed them to stay in accommodation there, so they're close at hand. They're not getting a lot of sleep," he added.
Donations are continuing to pour in to help the family, who had no contents insurance.
Mr Tree said they had received offers of help from people across the west country and south Wales.
"Their words have been very comforting, People's prayers mean a lot to us," he said.
Mr Tree added that they were in the process of setting up a Help Harry bank account which people would soon be able to make donations to.