Labour leader Peter Hammond resigns over Bristol mayor row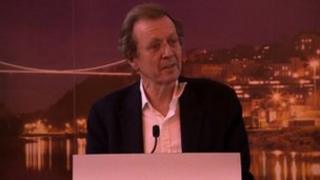 The leader of the Labour group on Bristol City Council has resigned.
Peter Hammond decided to stand down after Labour's governing body overruled a decision by party councillors to join Independent mayor George Ferguson's cabinet.
The National Executive Committee (NEC) said it wanted the party to be free to form a constructive opposition.
Mr Hammond said it was a flawed decision, with Labour better off taking up the posts.
The Labour party announced Ron Stone will take over as leader in Bristol.
The newly-elected mayor has three empty seats in his cabinet.
Mr Hammond said: "I am not simply a member of the Labour Party but its principle elected spokesperson in local government in Bristol - I am expected to publicly endorse and advocate Labour Party decisions.
"In all conscience I cannot publicly support a decision that runs contrary to the advice I gave to Labour councillors which they accepted by a majority decision as they are entitled to do."
BBC Bristol's Robin Markwell said he understands that these positions will be filled by Gus Hoyt for the Greens, Simon Cook for the Liberal Democrats and Conservative Geoff Gollop.
Local Labour party members had wanted to boycott the cabinet but were overruled by the party's councillors.
On Saturday, Labour's Helen Holland, a former leader of the council, turned down the chance to become deputy mayor.
Ms Holland had been offered the role by independent mayor George Ferguson but announced she would not take up the post.
Architect Mr Ferguson won the mayoral election earlier this month with a total of 37,353 votes, ahead of Labour's Marvin Rees.