Bristol mayor gives backing to flood barrier idea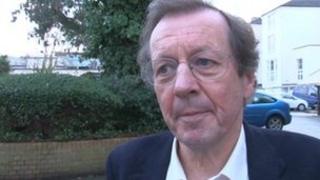 Bristol city is "deeply threatened" by flooding in the long-term and needs a barrier, its elected mayor has said.
George Ferguson is backing £50m plans to develop an Avon flood barrier, and wants talks with the Environment Agency and government about making it happen.
He believes a rising sea level threatens the city centre, and a barrier is necessary for protection.
Heavy rain caused recent flooding in parts such as Keynsham and Portbury, but the city centre was unaffected.
Mr Ferguson said the city was "relatively fortunate" in the recent floods but "in the long-term the centre is deeply threatened".
"I'm talking about long-term planning, a 20-year plan," he said. "We are bound to get rises in sea level and that's going to threaten us, and we could be talking about hundreds of millions of pounds worth of damage in our children's generation.
"We have got to plan for it and I want to have talks with the Environment Agency who I know recognise the problem, and I think government have to got to allow for this."
An £11m project is currently under way to replace Bristol Harbour's flood defences where boats from the River Avon access the floating harbour.