Killer Kenneth Shirley: Bid for whole-life sentence lost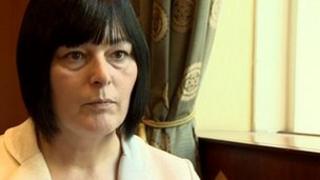 One of killer rapist Kenneth Shirley's victims has lost her bid to see him given a whole-life term in prison.
Helen Stockford was held hostage and subjected to a brutal rape in her Bristol home by Shirley, in March 2009.
He is currently serving a total of 23 life terms following his latest conviction in October, and must serve a minimum of 16 years.
Mrs Stockford requested permission to appeal against the sentence, but was turned down by the Attorney General.
She waived her right to anonymity during her legal battle and said she was bitterly disappointed with the response.
Mrs Stockford, 43, said: "I feel that for one day of crime I've lost everything."
Shirley, known by his middle name Mark, was first convicted in 1987. He was sentenced for the ritualistic murder of Mary Wainwright, 67, in Cardiff.
During his trial for the rape of mother-of-five Mrs Stockford, Bristol Crown Court heard he had used her to try to re-enact the killing of Mrs Wainwright.
He had been released on parole for the murder in 2003 after serving 16 years of a life sentence.
'Astonishing'
The following year he was recalled to custody, before being released again in October the same year.
In January 2007, he was recalled to prison again for parole breaches, before being released on licence for a third time, in September 2008.
Four years later, Mrs Stockford saw Shirley again jailed for life by a judge at Bristol Crown Court.
As he passed sentence, Mr Justice Astill told Shirley: "The nature of these offences, and the murder and rape convictions that went before them, may well result - and probably should result - in you remaining in custody for the remainder of your life."
But Mrs Stockford was not satisfied with "probably" and took her concerns to the Ministry of Justice (MoJ) and Downing Street to petition for his sentence to be changed to a whole-life term.
The MoJ said in a statement: "The decision to release life-sentence prisoners is made by the independent parole board. While public protection is our priority, unfortunately risk can never be eliminated entirely."
Mrs Stockford said: "He (the Attorney General) is telling me he doesn't feel what Shirley's got is unduly lenient.
"I've worked it out, whether it be 16 years, 20 years, 25 years, this man has human rights like all offenders in Great Britain and there is going to be a day when I'm going to be notified by my victim-liaison officer from probation to say he's now coming up on parole and it's your time to write a statement in support to keep him in there.
"I don't think I should have to do that in my 60s or 70s. I want to try to put this behind me."
Mrs Stockford's MP, Liberal Democrat Steve Webb, said: "Clearly the judge has looked at the circumstances of the case, but has come to a conclusion that, I think, most members of the public would find astonishing.
"We are talking about a convicted murderer who has been out on parole and has offended in the most terrible way again.
"He's been given a second chance and hasn't taken advantage of it and I feel a life sentence is the only proper response."
Mrs Stockford said she was not going to give up the fight: "I would be letting myself down and other victims down... if I just don't continue to pursue all these different avenues."
You can see the full story on Sunday Politics on BBC One in the west at 11:00 GMT on 2 December.