Whiteladies Picture House: Inquiry to rule on flats plan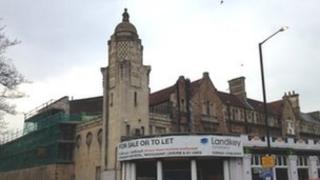 A public inquiry is to take place following a council's refusal of plans to turn a derelict cinema in Bristol into flats and a gym.
An application to Bristol City Council to convert the Grade II-listed Whiteladies Picture House had been recommended for approval.
But the proposal by London-based developers Medinbrand was turned down by councillors in June.
The inquiry is due to take place on 11 December at the Mansion House.
Members of the public can attend the inquiry - which starts at 10:00 GMT - and can, at the inspector's discretion, make their views known.
The Whiteladies Picture House closed in 2001 and a petition calling for it to be reopened as a cinema and arts centre collected more than 1,600 signatures.
Supporters of the arts centre plans hope a partnership with an unnamed cinema chain will help fund the cinema and provide newly-released films.
They want to have a 200-seater cinema upstairs and an auditorium which can hold 450 downstairs, which could be used as a live performance area or a larger cinema.
The building, on Whiteladies Road, was owned by Odeon, which ran it as a three-screen cinema before selling it in November 2001 - almost 80 years after it opened.
Over the years various plans for the site have been mooted including a gym, flats and shops but so far none has come to fruition.