Bristol Mayor George Ferguson signs bus fare cut petition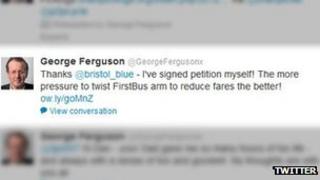 Bristol's elected mayor has signed a petition calling on FirstBus to reduce bus fares in the city.
On his Twitter account, George Ferguson said "the more pressure to twist FirstBus arm to reduce fares the better!".
More than 500 people have signed the e-petition on the government website.
FirstBus said it was "aware of the petition" and that it "respected the right of users in the region to voice their concerns in this way".
A company spokeswoman said FirstBus was committed to restricting fare reviews to once a year, and had taken steps to freeze or reduce as many fares as possible.
"Changes in the wider economy - including cuts by central and local government to things like concessionary fare reimbursement levels and the bus service operator's grant, have also taken their toll but despite this we do everything we can to keep fares as low as possible," she added.
The comment comes two days before many fares in the city increase by between five and 25 pence per journey.
The petition, created by Daniel Farr, calls on the Department for Transport to "force" First to reduce its charges.