Temple Meads new artworks create gateway to Bristol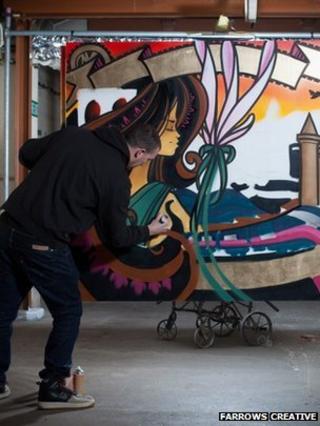 Two new artworks have been unveiled at Temple Meads railway station in Bristol as part of a new project to provide a better welcome to the city.
One of the pieces is a 32ft (10m) high inflatable plant shoot which appears to be breaking through the cobblestones.
The other is a painting celebrating the city's historical links with New York.
Both were commissioned by the Bristol Temple Quarter Enterprise Zone, which was set up to create cutting edge cultural experiences.
The piece outside the station, entitled "Shoot and Leaf", is by Bristol artists Filthy Luker, Pedro Estrellas and Dave Dwight.
Projects funded
Inside on platform three, is a painting by Bristol artist Inkie called "Bristol to Brooklyn".
It is the sister work to a piece he unveiled in Brooklyn in 2012.
"The Bristol to Brooklyn piece represents the long-standing connections between Bristol and New York, from the days of Brunel through to the present day and the street artists/musical links between them," said Inkie.
"The work uses key elements from both cities, from the bridges of Bristol and Brooklyn, to Concorde, an intercity train and a New York subway token."
After the unveiling a competition was also launched by Bristol Festival of Ideas director Andrew Kelly offering 10 awards of £500 for projects to help visitors learn about the area.
He said proposals could include short films, posters, cartoons, essays, short stories, street art or drama performances.
An overall winner will be announced at the Festival of Ideas awards evening on 21 May with a prize of £2,500.