Bristol man jailed for murder of teacher Judith Ege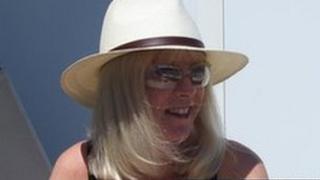 A Bristol man has started a jail sentence of at least 22 years for stabbing his former girlfriend's stepmother to death.
Barach Bandavad, of Highbury Road, Horfield, was convicted of murdering Judith Ege, 58, and was sentenced to a life term.
The retired special needs teacher was killed at Bandavad's house last June.
After sentencing at Bristol Crown Court, Det Ch Insp Simon Crisp said it was a "violent and unprovoked" attack.
Mrs Ege had visited Bandavad's house with her husband to retrieve items belonging to his daughter, who had previously dated Bandavad.
"On 30 June last year, Judith Ege went to Bandavad's address in Horfield to retrieve her stepdaughter's belongings," Det Ch Insp Crisp added.
"Without warning, he violently attacked her and made off from the scene.
"Despite eventually handing himself in, he continued to deny responsibility which brought further grief to Judith's family".
Det Ch Insp Crisp praised the "dignity and restraint" shown by Mrs Ege's family throughout the proceedings.
At the time of her murder, Mrs Ege's family said she was a gifted and talented teacher.
"She made time for everybody and was happiest when making other people happy," the statement continued.