Bristol Royal Infirmary affected by norovirus bug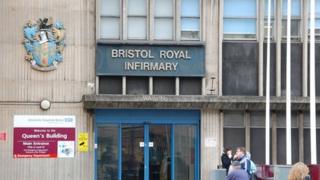 Visiting at four hospital buildings in central Bristol has been restricted following an outbreak of norovirus.
New admissions to three wards have also been stopped in an attempt to stop the spread of the highly-contagious virus.
A UHBT spokesman said visitors to the BRI's Queen's Building, King Edward's, Old Building, and the Bristol Heart Institute were limited to one hour.
"Only two visitors are allowed per bed with no change of visitors during a session," he said.
"We need to remind people to avoid visiting hospital if they have had symptoms of diarrhoea and vomiting in the previous 48 hours," the trust spokesman added.
Only very small amounts of the virus are needed to cause illness and it is easily spread in closed communities, such as hospitals, schools and cruise ships.
The incubation period is usually between 24 and 48 hours.
This is followed by severe and sudden projectile vomiting, diarrhoea and fever symptoms, which last about 48 hours.