Bristol City FC unveils plans to redevelop Ashton Gate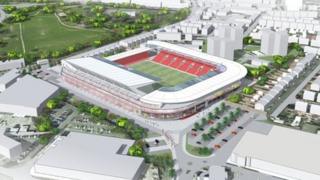 Bristol City FC has unveiled plans to redevelop Ashton Gate stadium if it cannot get planning permission to move.
The club's plans for the current ground mean an estimated £40m would be ploughed into turning it into a 26,000-seat venue including corporate boxes.
But at the same time, the club has stressed it intends to continue the fight to build a new ground at nearby Ashton Vale.
An inquiry into plans for a move to Ashton Vale will reopen in October.
The club intends to submit a formal planning application to Bristol City Council in June or July.
'Plan B'
If permission is granted the newly revamped ground could be finished ready for the 2016/17 season.
Meanwhile, Bristol Rugby Club chairman Chris Booy confirmed it would be sharing a ground with the football club, whichever stadium gets built.
He said: "It makes tremendous economic sense and allows us to invest more money in the football and rugby clubs."
Bristol City has previously said the Ashton Gate site is too small to fit its plans.
But managing director Jon Lansdown said demolishing the Hirerite site next to Ashton Gate and getting rid of the temporary huts alongside the Williams stand would free up more space.
He said: "Ashton Vale has always been our Plan A but... whatever happens, within three to four years we do need to improve our facilities to compete so we need to look at alternatives."
Mr Lansdown said his father, majority shareholder Steve Lansdown, had offered to "fund the shortfall" if the full £40m cannot be raised.
He said the plans had been in the making for about six months: "We haven't been sat on them."
New railway station
He added that it was hoped there would be a planning decision on the Ashton Gate plans by September, before the Ashton Vale inquiry continues.
Bristol Mayor George Ferguson has already backed the new plan.
Mr Ferguson said: "We must now pull out all the stops to work closely with the club to take these plans through planning so that this long-running issue can be resolved once and for all whatever the outcome of the Ashton Vale legal process."
He said he also supported the club's desire added for a new Ashton Gate railway station to coincide with the development.
Stuart Rogers, chairman of Bristol City Supporters Club and Trust, said: "I don't think any city fan will be surprised.
"For a long time since Ashton Vale looked like it was on shaky ground. There's always been the question of 'well what's plan B?'.
"I think outwardly while Ashton Vale has been the priority for the football club the message has always been that redeveloping Ashton Gate has not been a financially viable option but now it is.
"I think City fans will welcome it with a mixed view."