Battery Point Lighthouse bell returned to Portishead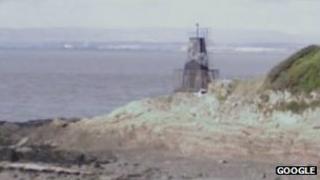 A lighthouse bell which was replaced with an electric horn has gone on display after being locked away for a decade.
The two-tonne bell was cast in about 1938 for the lighthouse at Battery Point, Portishead, near Bristol.
But it was removed when the lighthouse was modernised about 12 years ago.
Two Portishead women later found the bell in a warehouse and it has now been returned to the town and unveiled at its new home on Wyndham Way.
Carol Thomas, who discovered the bell with her friend Annette Hennessy, said: "My dad was in the Merchant Navy so, of course, the ships then used to come into Portishead Docks.
"As a young girl I used to run down and they used to bring it [the ship] as close into Battery Point as they could.
"So the bell and the history of all of it means an awful lot to me."
'Covered with rags'
She said she returned from holiday 12 years ago to discover the bell had been removed by helicopter and stored by Bristol Port Company.
The pair tracked the bell down to a warehouse in Avonmouth Docks which is owned by the company.
"It was covered over with oily rags, really, really dirty," she said.
"Bristol Port paid for it to be all cleaned up and brought it back into Portishead free of charge."
She said it had not been possible to put it back in the lighthouse.
"The structure couldn't hold the weight and it couldn't go up there because it's mostly all rocks," she said.
She said of the new site: "This is a more central point so people can see it coming in and as they're going out."