Chew Valley left out of £25m flood defence package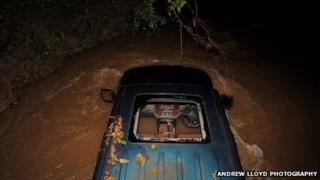 A frequently flood-hit area where a man died in November's deluge has been left out of a new flood defence package.
The Department for Environment, Food and Rural Affairs (Defra) has announced vulnerable areas in the south west are to receive £25m to reduce their risk of flooding.
The funding includes £7.4m to strengthen the Congresbury Yeo flood defences in Somerset.
But the Chew Valley near Bristol will receive no extra money.
Torrential rain in November caused considerable damage in Chew Stoke and led to the death of a man whose vehicle became submerged in flood water.
The poor weather also saw hundreds of homes in Gloucestershire, Somerset and Wiltshire affected.
The nationwide package of improvements will see construction start on 93 new flood defences in England this year to improve protection for more than 64,000 homes.
Other areas to benefit regionally include £1.93m for flood prevention schemes in Weston, North Somerset (£1.93m), Whaddon, Cheltenham (£1.76m) and Haydon Wick, Swindon (£4m).
But experts have raised fears that areas with smaller populations are being ignored.
The Environment Minister Richard Benyon was asked why the Chew Valley was not on the list.
He said: "We want to make sure we are not just talking about the big ticket items but those that are affecting small communities as well.
"Sometimes that can be done through very minor changes to local infrastructure... but what we are absolutely determined to do is only publish the schemes we know will go ahead in the next year."
The full list of schemes going ahead in 2012/13 is published on the Environment Agency website.