Bristol church's 'clunking' bell to be fixed after 110 years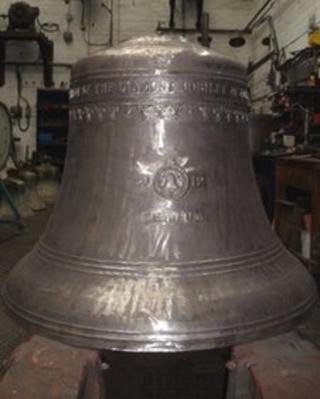 A bell which has 'clunked' rather than chimed for 110 years at an inner city church in Bristol is being replaced.
St Mary Redcliffe Church has raised some £30,000 to replace its poorly cast eighth bell which has been the weakest of 12 since 1903.
The new bell, which has been cast in Loughborough, is being delivered to the church on 22 February and will be lifted into place the following Monday.
Only one of the original 17th Century bells is still in use at the church.
'Poor sound'
Eight bells were replaced in 1903 to improve the sound quality but, due to costs, the other bells were only refurbished.
Anthony Bulteel, ringing master, said: "The eighth bell was simply re-hung but, since then, ringers and non-ringers have commented on its poor sound.
"It is noticeable as the fourth note when the church clock chimes. It can be heard every quarter of an hour as a clunk."
The bell was cast in 1768 by Thomas Bilbie of Chew Stoke.
The church says it is "one of poor quality" and is 15% lighter than it should be.
Three years ago, a bell tuning expert analysed five parts of its sound and it failed all the tests.
'Ring out'
It was in the same year that the church decided that a replacement was well overdue and began fundraising.
Now £29,000 has been raised towards the £32,000 cost and further donations are being sought.
The new bell, weighing three-quarters of a tonne, was cast by Taylor's bell foundry in Loughborough in November last year.
Mr Bulteel said he was looking forward to "hearing it ring out over Bristol".
The existing bell will remain in the church tower and be used as a Sanctus bell during Sunday Eucharist services.