Broken neck woman's death recorded as accidental verdict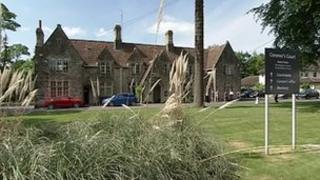 A Bristol bus passenger suffered fatal injuries when the driver had to make an emergency stop, an inquest has heard.
Barbara McCracken, 88, was thrown forward when Raymond Payne slammed on the brakes after a motorist in a gold-coloured car allegedly cut him up.
The great-grandmother suffered a broken neck in the incident last May and died in Frenchay Hospital two days later.
An accidental verdict was recorded by deputy coroner Gail Elliman at Avon Coroner's Court.
The court was told that Mrs McCracken, a retired civil servant from Stoke Gifford, was a passenger on a First Bus service on 16 May.
'Had to brake'
The near collision happened on Southmead Road in Filton as the single-decker - travelling at around 25mph - passed through green traffic lights.
"I suddenly noticed a car coming across my path from the right side," Mr Payne said in a written statement read to the court.
"I realised I had to brake as otherwise there would be a collision.
"We looked at each other and I saw the shocked expression and said 'what are you doing?'"
Passenger Briony Daniels was sitting at the back of the bus and saw Mrs McCracken thrown forward out of her seat.
"The elderly lady reached out to grab hold of something. I heard the sound of a thud," she said in a statement.
Spinal fracture
Miss Daniels phoned the emergency services. Both she and Mr Payne tried to help Mrs McCracken until paramedics arrived.
A post mortem examination found she had died from a fracture of her spinal cord.
Despite extensive police inquiries the female driver of the other vehicle has never been located.
Had police been able to trace the woman, a file would have been passed to the Crown Prosecution Service to consider pressing charges, the hearing heard.
Speaking after the inquest, Mrs McCracken's son Brian, 64, said he hoped that the driver of the car did not know what had happened.
"We would be even more upset if she did know," he added.