Fake moon in Bristol sky for IBT13 festival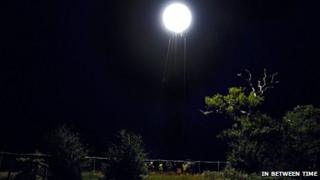 A fake moon will be floated in the sky above Bristol to mark the start of the IBT13 International Festival of Performance.
The moon, a giant balloon filled with bright film lights, will ascend into the sky above College Green each evening from Thursday until Sunday.
It is the work of artist Simon Faithfull and will be operated by hand, using ropes, helium and pulleys.
More than 90 performers from around the world will take part in the festival.
The biennial festival was first held in Bristol in 2001.
Helen Cole, artistic director of festival organiser In Between Time, said: "Public artwork is an important part of IBT13 Festival.
"People are travelling to Bristol from all over the world for IBT13, but the event is also for the city and its citizens.
"Fifty events make up the festival, some are in venues, but many are in public places like streets, docksides and even College Green.
"Thousands will witness this phenomenon on their walk home from work. I hope it will make them stop and smile."