John Suddards' life remembered at Thornbury church service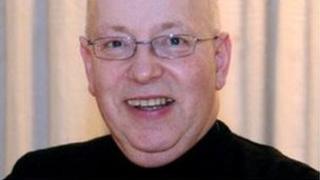 A year after a vicar was brutally murdered near Bristol his family has remembered him at a church service.
Reverend John Suddards was found with multiple stab wounds at his Thornbury vicarage on 14 February last year.
Several members of his family joined worshippers at St Mary's where Mr Suddards, 59, had been the vicar for six months prior to his death.
The parish's current vicar said people had the opportunity to light a candle in memory of him.
"That's a gentle and quiet way of respecting and honouring his memory," said Dr Jan van der Lely.
'Close-knit community'
The body of Mr Suddards was discovered by a parishioner and two workmen.
Nine months later, homeless drifter Stephen Farrow was found guilty of murdering both Mr Suddards and retired teacher Betty Yates, 77, from Bewdley in Worcestershire, following a trial at Bristol Crown Court. He was jailed for life.
Dr van der Lely said, in the five months since she became vicar of St Mary's, "the community has really recovered extraordinarily well".
"It's a very close-knit community which is a joy to see - neighbours who really care for each other."