'Eyesore' Gainsborough Square, Lockleaze, to be regenerated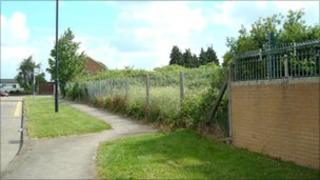 Plans to redevelop a rundown housing estate in north Bristol have finally been given the go-ahead.
The site at Gainsborough Square, Lockleaze, was abandoned during the 1960s and has been described as "somewhat of an eyesore".
Bristol City Council has approved plans for 15 new homes and 14 apartments along with commercial and retail units.
Lockleaze Community Association said the development would give the entire area a much-needed shot in the arm.
The community association had called in developers to sell the site in 2006 and since then a number of ideas had been put forward but none had come to fruition.
'Widespread regeneration'
Under the deal brokered by Flax Bourton-based CJH Land, the Bristol Community Housing Foundation and Knightstone Housing Association will take on the 0.8-acre site.
Lockleaze Community Association chairman Alan Richards said the proceeds of the sale would also help fund an "ambitious" refurbishment of the community centre.
"The community centre represents one of the only public facilities in the area.
"We are hoping this development will be the catalyst for the widespread regeneration of Lockleaze which has got too used to going without since the district was developed during the 1960s."