St Ursula's Academy 'would consider secondary school option'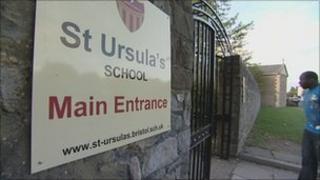 Parents who want to see a secondary free school on the site of St Ursula's in Bristol have been told the academy would be prepared to consider the idea.
At present the school says it does not think there is enough demand to justify offering secondary education.
But it said if 60 parents in both Years 3 and 4 identified the proposed school as its first choice it would be happy to revisit the options.
More than 50 people attended a meeting on Thursday to hear the proposals.
School spokesman Mark Greatrex said at present they were concentrating on running the academy.
"We would advise the parents of St Ursula's to continue seeking support for secondary school provision, with the required substantiating evidence," he said.
'Very supportive'
Conservative MP for Bristol North West, Charlotte Leslie, said historically there had been a lack of secondary school places for pupils from the BS9 postcode area.
She said in setting up a free school the Department for Education would present parents with a list of potential sponsors to fund the school but ultimately it was up to the parents to choose the most suitable sponsor.
Alistair Watson, cabinet member for children and young people on Bristol City Council, said he had been campaigning for the idea for the past 12 years and was "very supportive" of an all-through school on the site.
The original private St Ursula's Roman Catholic School ran into financial difficulties in 2010 and Bristol City Council bought the site for £1.95m.
It is now run as an academy and caters for about 120 children aged between four and 11.