Oldbury power station transformer is removed from site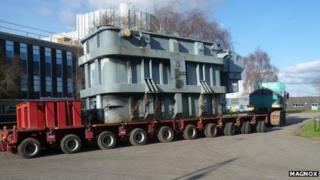 A 170-tonne generator transformer has been removed from Oldbury nuclear power station as part of its decommissioning programme.
It was taken from the site near Bristol to Sharpness Docks in Gloucester, where it will be broken up and recycled.
The transformer played a vital role in converting the electrical output to make it suitable for distribution to properties across the UK.
The power station stopped generating electricity in February last year.
The generator transformer - measuring over 13ft (4m) high, 29ft (9m) long and 13ft (4m) wide - contains more than 30 tonnes of copper and around 120 tonnes of steel.
'First successful step'
Reactor two at Oldbury nuclear power station was turned off in 2011 and reactor one was shut down last year, after 45 years.
Mike Heaton, Oldbury site director, said the income from recycling the scrap metal will help pay for the UK nuclear decommissioning programme.
"The completion of this project safely and ahead of schedule marks the first successful step in consigning major waste items from Oldbury," he said.
The Nuclear Decommissioning Authority and Magnox, which owns the site, said continued operation was not economically viable.
During the decommissioning process, remaining fuel from the station's reactor will be removed and reprocessed.
Other hazardous materials from the site will be removed before many of the station's buildings are demolished.
The main reactor building will not be pulled down until about 2100 when the radioactive levels in the building become safe.