'Clever' Frankie Howerd school reports sold for £580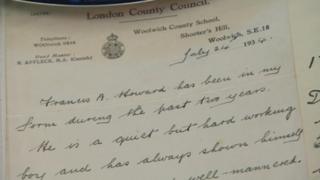 School reports noting Frankie Howerd's "natural gift" for amateur dramatics have sold at auction for £580.
Twelve school reports, dated to 1934-35, praise the "clever actor" saying he was hard-working, courteous and well-mannered while studying.
They were among a number of the comedian's personal items sold by Dreweatts in Bristol for £870 in total.
Peter Rixon, from the auction house, said the sale had been "better than they had been hoping for".
Another item sold is a passport from the 1960s.
Dreweatts has auctioned many of the Carry On film star's belongings since his death in 1992.
'Last hurrah'
The items belong to a personal friend of Mr Howerd's who was latterly living with him and his former partner at their rural retreat in Somerset.
The four-bedroom pink cottage in Cross, near Axbridge in Somerset, was sold at auction in 2008.
Two years before that, the home had been opened to the public where hundreds of photographs, scripts and props belonging to the star were displayed.
Mr Rixon added these latest few items were "the last hurrah" from the estate of Frankie Howerd.
"I think it is perhaps the run of school reports that is the most interesting," he added.
"They flag up his early talents for amateur dramatics and mention that he was able to make his classmates laugh at will which is no mean feat."
Other items for sale included a run of passport-style portrait photos which show him whilst serving as a gunner in the army.
Also his first contract of employment was sold, along with letters, gramophone records and receipts related to his Somerset home.