Bristol City Council budget: Job cuts and council tax rise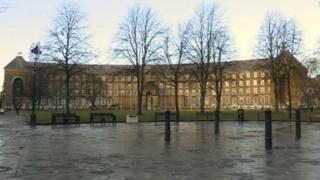 The first budget by Bristol's first elected mayor will cut 325 jobs from Bristol City Council while raising council tax by 1.99%.
George Ferguson spoke of his "duty to set a legal budget while protecting the most vulnerable in society".
The council has to make savings of £35m - 9% of its budget.
Other threatened cuts to services were dropped including the proposed loss of night buses and Police Community Support Officers (PCSOs).
Unions representing staff expressed anger at the plans.
'Make changes'
"It's pretty tough, people are frightened about the future of their jobs," said Judy Wilson, Unison representative.
"They're totally demoralised," said Rowena Hayward of the GMB. "They feel they're being attacked from all sides."
But Councillor Tim Kent, the Liberal Democrat group leader, said u-turns over some of the proposed cuts show Mayor Ferguson is able to compromise.
"I think it does show he is willing to listen," said Mr Kent.
He added: "I think sometimes you put some things out there, you decide you're wrong on them and you make changes and that's to be welcome and I thank him for that."
The Labour group acknowledged the difficulties facing the new mayor in setting the budget but did not support it.
"Labour have worked constructively with him, and with all parties, to mitigate the worst of the mayor's cuts," said Helen Holland, leader of the Labour group.
"Labour took the decision not to attempt to block the mayor's budget - what we cannot do is endorse and support the cuts this Conservative/Lib Dem government is forcing upon our city," said Ms Holland.