Bristol bus fare campaigners secure council debate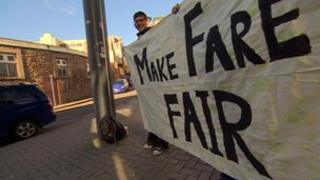 Campaigners urging bus firm First to reduce fares in Bristol have secured a council debate on the issue.
A petition by Make Fares Fair has attracted more than 3,500 signatures, including city mayor George Ferguson.
Bristol City Council has pledged to debate the issue on 19 March.
Daniel Farr, who leads the campaign, said he was "excited and nervous" about addressing councillors for 15 minutes on the issue.
Mr Farr said: "I'm optimistic about it, we've come this far. We never expected to get here really.
"We've got to keep the pressure on First to make sure they deliver lower fares for Bristol."
The bus company's fares in Bristol are among its highest in the UK, and it increased many fares in the city by up to 25p per journey in 2012.
'Significant reduction'
Mr Farr has previously met Mr Ferguson and the MP for Bristol North West, Conservative Charlotte Leslie to discuss the issues.
Among the items discussed were how to improve competition between the city's other bus operators and the introduction of a "smart ticketing" system similar to London's Oyster card, which would work with different providers.
First said it plans to hold a review into bus fares and the "associated value for money" they offer.
A spokesman said: "We are in the process of booking various events around the city which will be used as a means of seeking feedback about the fares charged on the bus.
"As soon as these events are finalised we will share the detail of them, encouraging people who use our services - and those who don't - to come along and have their say."