Ashfield young offenders' punishment ruled 'unlawful'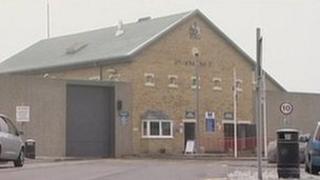 A young offenders' institution acted unlawfully in the way it punished a group of boys, a judge ruled.
The teenagers claimed staff at privately-run Ashfield near Bristol locked them in cells for long periods after they protested over conditions.
At the High Court, Mrs Justice Nicola Davies ruled that in February 2012 they were confined - "segregation by another name" - without "critical safeguards".
Operators Serco accepted that some procedures were not followed.
'Procedures not followed'
Mrs Justice Davies also said the seven boys, all 17 at the time, had been unlawfully denied access to the gymnasium at the institution, which is now set to return to being an adult prison.
She also said the authorities failed to provide the right paperwork for the adjudications process.
"We acknowledge that on this occasion some procedures were not followed, in particular those regarding the removal of the offenders from association over the weekend following the incident," said Wyn Jones, Serco's director for custodial services.
"We also acknowledge that we did not provide one of the offenders in this case with all necessary paperwork prior to an adjudication hearing."
The company said it had already amended its processes to ensure the situation did not happen again.
"We have thoroughly investigated all the issues raised in the court and responded to the changing and evolving case, in which many of the initial allegations were unfounded and withdrawn," said Mr Jones.
"This has been reflected in the judge's decision which provides an equitable result with each party bearing its own legal costs."
The inmates involved were punished following a sit-in protest. The incident on a sports pitch resulted in equipment being damaged.
'No place for a child'
"This judgment confirms what we have been saying for a long time, and what the government has now recognised - Ashfield is no place for a child," said Frances Crook, chief executive of the Howard League for Penal Reform, which represented all seven claimants.
"Ashfield is an unsafe establishment run for profit which has seen appalling levels of violence, with 1,039 assaults recorded last year, as well as excessive use of restraint.
"We are very pleased that it will no longer hold children. It was encouraging to see that, only a few weeks after this case came to the High Court, ministers decided that Ashfield should be re-rolled."
The Ministry of Justice announced in January that Ashfield is to be re-rolled as an adult prison. All children are to be transferred out of the prison by the end of March.
In 2012, inspectors criticised Ashfield's procedures for locking prisoners up until they calmed down, saying monitoring and governance of the measures were "inadequate".