Call for better coordination of roadworks in Bristol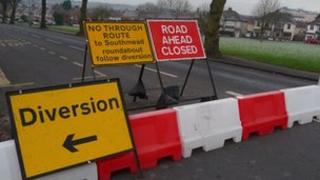 The Liberal Democrat Party in Bristol is calling for roadworks in the city to be better coordinated.
It comes after recent research revealed there are currently 19,000 ongoing roadworks in the UK.
Councillors will put forward a motion calling on Mayor George Ferguson to ask utility companies to co-operate more so work is carried out at the same time.
The Lib Dem's Gary Hopkins wants companies to use a licence scheme to encourage them to work better together.
He said: "At the moment, motorists are held up for weeks by one set of works on a busy commuter route - only to find it jammed when another utility company digs up the same stretch of road again a fortnight later."
Mr Hopkins has also suggested the introduction of an arrangement for charging electric, gas and water companies to work on stretches of road.
The newly-elected mayor replaced the previous council leader in 2012 and performs a broader role representing the interests of Bristol residents.
A statement from the mayor's office said the council was interested in using the mayor's new powers for "the benefit of Bristol road users".
It read: "The council wants to work with surrounding authorities and the utilities companies in partnership.
"There is a cost involved in implementing the new powers for both the authorities and the utilities companies, and a partnership approach will keep costs down."
The motion is due to be heard at the next full council meeting on 19 March.