Bristol mayor creates women's equality group at council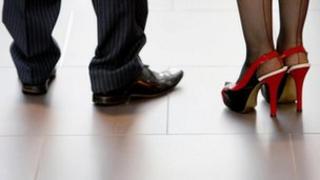 A group to tackle inequality experienced by women in Bristol is to be created, the city's mayor has said.
The ceremony held at the City Hall, saw Mr Ferguson sign the European Charter for Equality of Women and Men in Local Life.
The charter is backed by several cities across Europe, but it is the first time a UK city has signed the pledge.
Mr Ferguson said: "It is a declaration of intent, setting out our commitment to achieving real equality for women."
'Social front'
The Women's Commission will draw up a "women's strategy", setting out goals and an action plan.
The group intends to work with other organisations in the city to help draw up the plans.
"Women continue to be under-represented at the highest levels of decision-making, something alluded to only last month by the prime minister," added Mr Ferguson.
"Women put in far more unpaid hours at home than men. And, on the social front, women continue to suffer unacceptable levels of harassment and violence.
"I want Bristol to be in the vanguard of the drive in the UK to achieve equality for women in all aspects of local life and I am proud to make this commitment on the city's behalf."
The move has been welcomed by Bristol Women's Voice.
Interim chair, Penny Gane, said: "We look forward to working together in the Women's Commission and playing our part in making sure that the voices of women across Bristol are heard."
Other cities that have signed the charter include Vienna, Frankfurt and Valencia, as well as local government associations in Finland and Bulgaria.