South Gloucestershire homes set to be demolished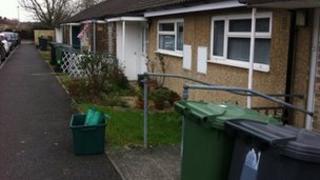 Residents of more than 400 post-war homes in South Gloucestershire have been told they are earmarked for demolition to make way for new housing.
Merlin Housing Society Ltd said it intends to start knocking down the social housing in spring 2014 "to address structural defects".
Some residents said the homes were draughty, but others said they were settled and would refuse to move.
Merlin said everyone would be re-homed but this could be outside the area.
Those affected will get at least £4,700 compensation.
The landlord has published notices of 424 homes it intends to demolish within the next seven years.
A further 1,000 of the properties - built quickly after World War II - will be refurbished.
Patricia Bowerman, who has lived in her home in Cadbury Heath for 35 years, said she felt settled there.
'I feel angry'
"I've rung them up and told them they must have more money than sense if they're going to pull these down and build some more. It's stupid.
"I would refuse (to move) and I think a lot more would as well," she said.
But Daniel Cutterham, who has been in his bungalow seven years, said: "The walls are not thick enough, there's no cavity insulation, so they're bound to be cold.
"Structure-wise they should come down."
Sonya Woodey, who moved in to her home in November 2011, said she was not told about the plans at the time.
She said: "It's made me feel angry and sort of used."
A spokesman for Merlin Housing Society said: "Our non-traditional housing redevelopment project aims to replace old, draughty homes with modern, energy-efficient properties."
'Drop-in sessions'
He said they were carrying out a feasibility study to determine whether the homes were suitable for redevelopment.
"We first told residents that their home was included in the project in September 2011," the spokesman said.
"Since then we've run drop-in sessions for residents, hand-delivered letters and leaflets to homes, and produced a quarterly project newsletter to keep everyone informed.
"We have also run a formal consultation on the proposals, where most residents voted in favour of our redevelopment proposals. And last month we told residents that we would shortly be issuing the demolition notices."
He added: "Staff will be meeting everyone affected to discuss their needs so we can find them a new home. This could be one of our existing properties, one of the new homes we are building, or a home outside of South Gloucestershire with another landlord."