Airbus recruits 50 temporary engineering jobs at Filton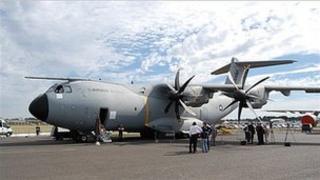 Aircraft manufacturer Airbus has announced 50 temporary jobs at its base in Filton, near Bristol.
The company says the new aircraft fitter jobs are due to increasing demands for its A400M military transport plane.
The plane, designed to replace the C-130 Hercules and C-160 Transall, is due to enter service later in the year.
Airbus has more than 170 orders for the A400M - which can carry up to 116 paratroopers.
"We are looking to boost our team which produces the wings for the A400M aircraft by recruiting some temporary staff," said a spokesman for Airbus.
"The A400M - 174 have been ordered by eight global customers and production is ramping up, hence our need."
The MoD has ordered 22 of the A400Ms to replace its C-130 Hercules fleet, with the first delivery expected in 2014.