Gull-proof rubbish bag scheme extended in Bath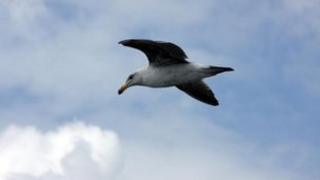 Gull-proof rubbish sacks will be rolled out to a further 850 homes across Bath following a successful trial.
Bath and North East Somerset Council trialled the reinforced bags last year in an effort to reduce the mess caused by birds and animals.
Over two-months, 1,000 homes tested how successful the reusable bags were at stopping scavengers.
By the end of the trial 86% of those residents wanted to continue to use the bags, the council said.
Councillor David Dixon added: "The reusable bags proved very popular with local people and certainly made a difference toward reducing the amount of litter created by animals.
"We've listened to feedback from homes taking part in phase one. For example, the new batches of bags are slightly smaller and weighted."
Crews will deliver a reusable bag and letter with guidelines on how to use them from 1 April.
A full list of the streets in Bath that will be receiving a bag is available on the council website.