Cotham car damage suspect released on police bail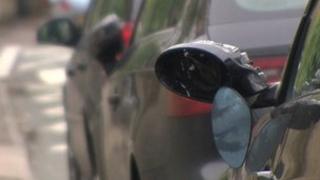 A man who was arrested after damage was caused to dozens of cars has been released on police bail.
It was initially estimated more than 100 cars had their wing mirrors broken in the Cotham area, but police have since said 40 cars were affected.
Damage was caused to vehicles parked in Hampton Road and Great George Street.
A 26-year-old man arrested on suspicion of causing criminal damage has been released on bail, Avon and Somerset Police said.
"Fifteen people have contacted police to complain about damage caused to their cars and motorcycles parked in Hampton Road during the early hours of yesterday morning," a police spokesman said.
"Detectives investigating the incident believe now that up to 40 vehicles may have been damaged and are urging anyone who has had damage caused to a car or motorcycle to contact them, no matter how minor."
Officers are investigating whether the incidents in Hampton Road and Great George Street are connected.
Det Sgt Larry Jones, of Bristol CID, said: "We take all incidents of anti-social behaviour and criminal damage seriously and will bring offenders to justice."