Bristol resident parking charges 'bound to increase'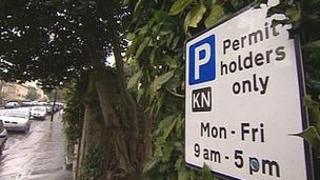 Charges for residents' parking in Bristol could increase by up to £20 a year, the mayor of Bristol has said.
The current cost of a permit is £30 but Mayor George Ferguson wants to increase the fee to help fund another 18 resident parking zones in the city.
Mr Ferguson said permits were "bound to be more than £30" as the new scheme has to pay for itself.
Guy Kingston, from the Federation of Small Businesses, said it was "killing off Bristol's economy".
Residents' parking zones operate in the Kingsdown, Redcliffe and Cotham areas of the city.
Households within the zones pay £30 per year for a permit for their first car and £80 for a second but with no guarantee of a space.
Mr Ferguson wants to introduce a similar scheme in areas surrounding Bristol city centre within the next 18 months.
'Complete disaster'
"It's almost bound to be more than £30 but it certainly won't be more than £50 for the first car and hopefully it will be a bit less than that," he said.
"The aim is to ensure that it's cost neutral at the very least.
"But what I'm absolutely certain about is that all the money will be used to improve transport and safety and the environment in the areas concerned."
But Mr Kingston said the scheme was a "complete disaster".
"They are not going to have a vibrant economy if people can't use their cars, can't park when they want to go shopping - they'll go somewhere where they can park," he said.
"And trying to force people to not take their car means that they won't come and work in Bristol.
"If you're in favour of killing off Bristol's economy then you're going to be in favour of these parking zones."
Plans for a similar scheme in Cliftonwood were turned down in 2010 after residents told the city council they did not want it.