Concern over homes to be built above Bristol caves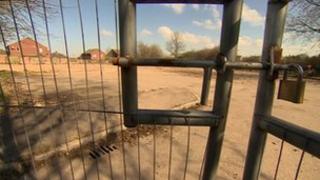 Campaigners say they are concerned about plans to build affordable housing above a network of ancient caves.
Developers want to build the homes and a supermarket above the caves at Pen Park in Southmead, Bristol.
Campaigners are worried the building work could lead to the ground becoming unstable.
The firm behind the plans - Elim Housing Association - said an extensive number of surveys had taken place and the land was suitable.
A planning application has been submitted to Bristol City Council, which has commissioned an independent report into the scheme.
A statement from the company said: "The plans have been adapted several times to take into account the findings of the surveys and to alleviate some of the concerns of the local residents."
'More unstable'
Sue Hazell, a local resident, said campaigners had been battling the development because they wanted to protect the unique caves below and the nearby homes above.
"The areas of the caves investigated are closer to the surface than first thought which means that the land is more unstable than previously thought," she said.
"We're quite worried about families living above it."
Jim Henderson, of nearby Filton Golf Club, said it could have an impact on several holes at the club.
"We're fairly well enclosed by two or three housing estates so there's not much land for us to play with," he said.
"So if it does cause subsidence in this area, and causes danger to the golf club members, then we might have to close this hole and possibly one other hole."