First launches Bristol bus fare survey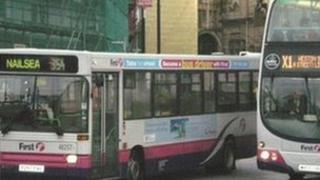 A survey about First's bus fares in and around Bristol has been launched online following pressure from campaigners.
Part of a fare review announced in January by the transport company, the study aims to re-establish "a greater sense of value for money".
Some 3,800 people have signed a petition urging the government to force the firm to lower its fares.
Several public events are planned to gather feedback as part of the survey, which is being run for three months.
Justin Davies, from First, said: "Over recent years the cost of running buses has got more and more expensive, with significant increases in fuel and insurance costs, as well as increases in staff costs, pensions and things like normal utility bills.
"These costs aren't going to go away, but we are pleased that this consultation gives us the opportunity to see what can be done to work round these challenges and to deliver the best value for money for bus passengers."
At the end of last year graphic designer Dan Farr, 33, started his Make Fares Fair campaign.
He has launched an online petition, met councillors and a local MP, and addressed a city council debate.
Bristol mayor George Ferguson said the campaign had "brought fear" to First and the council had noted fares in Bristol were "significantly more expensive" than in other cities.
First said seven public events would take place across the city throughout April.
It added that all feedback would be processed by MVA, an independent transport consultancy, and any resulting changes could come into effect the autumn.