Meningitis death girl Kelsey Smart 'let down' by doctors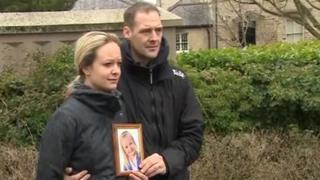 A five-year-old girl who died from meningitis had been seen by two GPs less than 48 hours before she died, an inquest has heard.
The doctors thought Kelsey Smart, from South Gloucestershire, was suffering from viral gastroenteritis.
But she died from the deadly brain condition in hospital on 28 February last year, Avon Coroner's Court was told.
A narrative verdict was recorded by the Avon Coroner Maria Voisin.
Mrs Voisin said she was mindful of both Kelsey's presentation when she was seen by each doctor and the evidence of the two consultants from the children's hospital.
"It is clear from their evidence that earlier intervention is better but what cannot be said is whether earlier treatment would have resulted in a different outcome for Kelsey.
Small rash
"Neither can we say exactly what would have happened if Kelsey had been admitted sooner.
"So based on the evidence I consider the appropriate verdict to be a narrative verdict."
Kelsey's mother said she was concerned none of the doctors who examined her had considered meningitis.
She was examined by an out of hours GP on the night of 26 February and seen again the following morning by a doctor at her local surgery.
Three hours later she started fitting and was rushed to hospital where she later died.
Her mother, Hannah Smart, said in her statement read to the inquest: "We had a meeting with a senior doctor and the Orchard Medical Centre, a Dr Yates, who suggested that Kelsey had been let down by the doctors treating her.
"These feelings are echoed by myself and my entire family.
"I am concerned that at no point did any of the Frendoc [out of hours GP service] staff or any of the staff at the GP surgery inform me about meningitis and what to look out for.
"I believe now that she had signs and symptoms pointing to meningitis."
The inquest heard that Kelsey, a pupil at Park Primary School, Kingswood, had first starting feeling unwell on the night of 25 February and was vomiting hourly throughout the night.
She was also tired and had developed a small pinprick rash on her abdomen and left upper leg.