Bristol drivers face worst jams in England according to study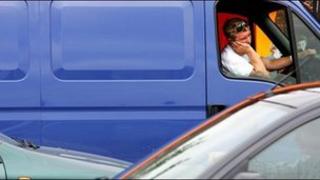 Motorists in Bristol face the longest delays in England according to a new study of satellite navigation data.
The report, which analysed five billion pieces of anonymous information, found average journey times in the city increase by 31% during rush hours.
That was worse than London where congestion goes up by 27.5%. Only Belfast had longer delays than Bristol.
John Laite, signals manager for Bristol City Council, said the figures needed to be put into perspective.
"The findings for Bristol include the outer arterial roads. You're talking about the A4174 (Hambrook), M4, M5, where there's significant congestion hotspots," he added.
'Managing delays'
"Our challenge is not to make every car move faster but to make journeys safer and more reliable for all, and that includes pedestrians and cyclists.
"Bristol has limited road space and, when that capacity is reached, queuing occurs. It's managing the delays that is the primary function of the Traffic Control Centre.
"It is [about] giving our space to bus lanes to attract more users onto alternative transport."
Nick Cohn, of TomTom, conducted the 2012 Congestion Index study and said the results at a local level were "not great" for the city.
"We can see that in Bristol an average trip would take an extra 20 minutes just because of congestion," he added.
"In the morning peak period that could be up to 30 minutes extra for an hour-long trip, or even a little bit more. The evening peak is even worse."
Mr Cohn said one reason for the figures could be that the city has had some of the fastest economic growth, a sign that "some good things" are going on in the city.
Stephen Sully from Mangotsfield is a taxi driver in Bristol and experiences bad traffic on a daily basis.
'Absolutely awful'
"I don't come back down the M32 because that's absolutely awful," he added.
"If someone jumped in my cab at Temple Meads [Station] and said to me 'can you take me over to Bedminster?', that is when I go 'oh no'.
"It takes me about five minutes to get over there for a fare of about £4.20 and I'm not exaggerating, it takes me 15 minutes to get back."
Hugh Bladon, of the Alliance of British Drivers, blamed traffic lights and called them "an absolute menace" and totally unnecessary in some places.
Liberal Democrat minister for transport Norman Baker said congestion in cities such as Bristol would be eased if more people "moved onto bicycles".
The study looked at 161 cities around the world and compared travel times during peak periods compared with quiet, uncongested times.
It found that motorists in Moscow suffered the worst jams.