Winterbourne View: Government to pay support costs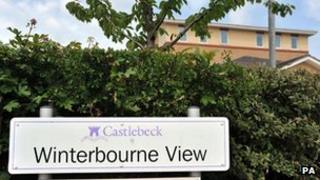 Victims abused at a care home exposed in a Panorama documentary are to have access to counselling and support.
The Department of Health has awarded the charity Respond a £25,000 contract to provide family support groups and psychotherapy for the victims from the Winterbourne private hospital
Respond said it would offer the assessments to people who had suffered abuse-related trauma.
Castlebeck, which ran the Bristol home, went into administration in March.
It followed an investigation by the BBC's Panorama programme, broadcast in May 2011, into physical abuse and neglect at the home.
Last year, 11 care workers admitted a total of 38 charges after they were secretly filmed abusing patients at the home, which looked after people with severe learning difficulties.
Six were jailed, the remainder received suspended sentences.